Harvest season: 2020 - 2021

For season 2020 – 2021, Byzantium by DARVARI dedicated its most prized harvest to Empress Irene (775 AD and 802, b. ca. 750), sole ruler of the Empire as Basileus, renown for restoring the cult of the icons after the First Iconoclast Period, in 787 AD.



Empress Irene of the Byzantine Empire is renowned for reestablishing the cult of the icons in the Byzantine Empire, for which she has also been sanctified by the Church.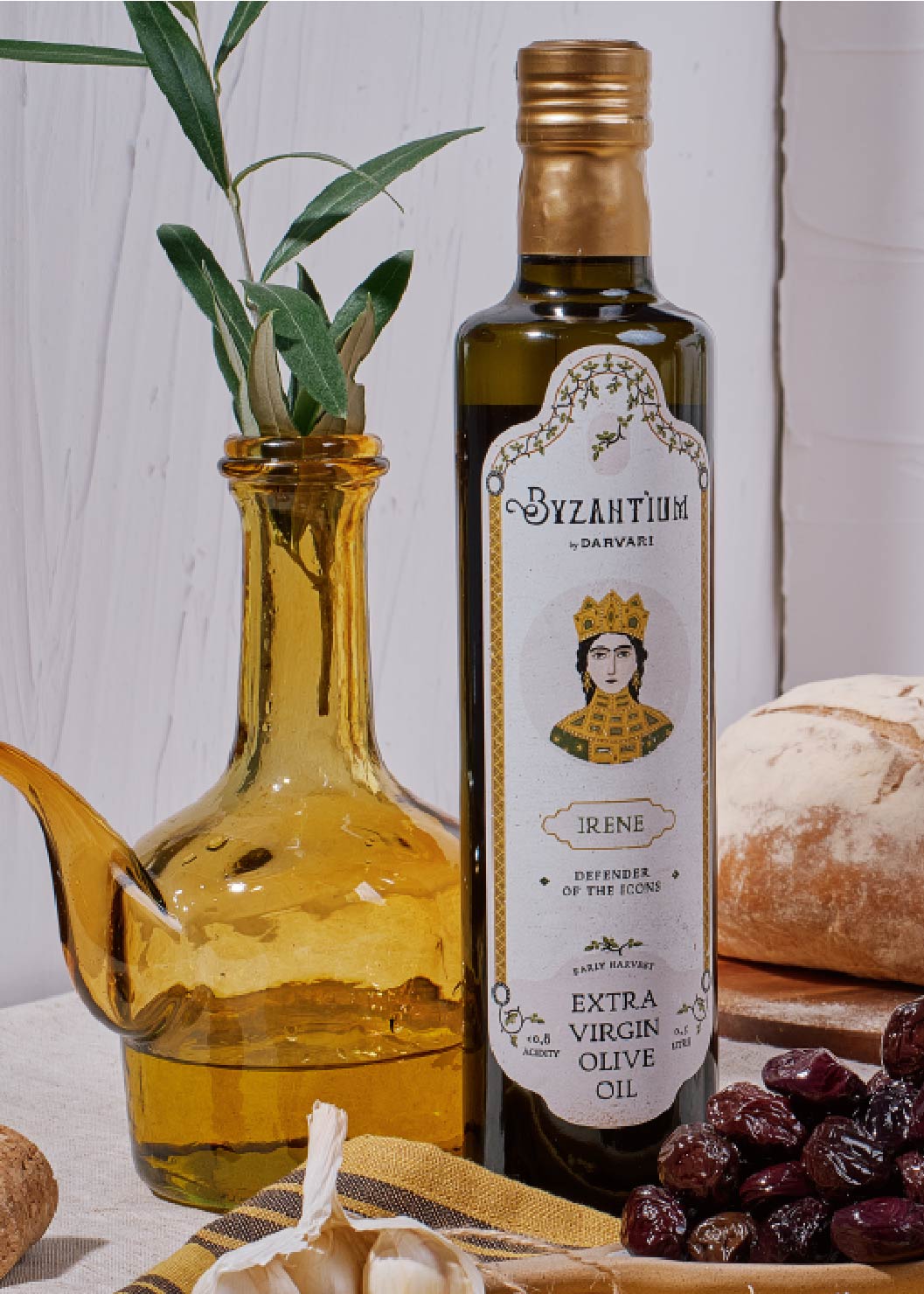 Irene, defender of the icons
Byzantine Empress Irene (775 AD and 802, b. ca. 750) was the consort of Leon IV, regent for her son and full-fledged autocrat. Contemporaneous with Harun al-Rashid and Charlemagne, Irina Athenian is known for re-establishing the cult of the icons after the First Iconoclastic Period, which brought her sanctification by the Church. In the last part of her life, Empress Irina receives the title of Basileus, absolute monarch, becoming the first woman with this status in the Byzantine Empire.
For harvest season 2020 – 2021, Byzantium by DARVARI worked together with Anca Vintila Dragu, Romanian potter, to create a collection of ceramic pieces inspired by Byzantine Empress Irene. Through this collection, Anca Vintila Dragu offers us a contemporary dialogue with the Byzantine tradition: the perfect and richly colored ceramic mosaics served as a source of inspiration, being transposed into an element in the shape of the crown of Empress Irene Athenian.
"My concept was based around simple geometrical shapes, combined and decorated with these elements of colored mosaic. I have manually modeled or used molding and engraved decorative elements, and the material I chose was a white sandstone on which I applied satin glazes with patina effect and pastel iridescence, alternating rough, textured surfaces with satin surfaces. I am delighted with this royal ceramic collection!"
ANCA VINTILA DRAGU studies economic sciences, following a 12 year old career in this field and a transition to the world of pottery, having taken the bachelor's and master's courses at UNArte Bucharest. Her activity is carried out on two levels: object design and artistic ceramics. She is the founder of "Una ca Luna" brand and is a member of Galateea Contemporary Art initiative group, the only gallery dedicated to contemporary ceramics in Romania, where she curates artistic projects.
She works with techniques of ceramic collage, modeling or casting, and her work has a conceptual component added. Her artistic endeavors include collaborations with other artist, making installations with mixed media. "Art is meant to open new windows, to enlarge the universe of people who interact with it."
To highlight the specific aromatic notes of the Irene edition, Byzantium by DARVARI developed a capsule menu consisting of three recipes inspired by the Byzantine tradition, all based on extra virgin olive oil as one of the main ingredients used.